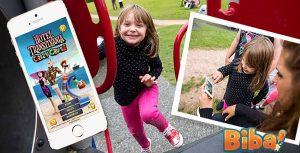 Læsetid: 6 minutter
Hvad enten det er detail, spil, uddannelse, rejse, service, sundhed eller marketing, så giver det hurtigt voksende medie Augmented Reality (AR) både forbrugere og virksomheder mulighederne for at forbedre flere aspekter i vores dagligdag.
Vi sætter i dette indlæg fokus på det voksende AR marked indenfor underholdnings- og spilbranchen.
Får børn og familier i bevægelse
Vi er forbi de dage, hvor gaming foregik stille siddende i mørke og ofte forbundet med spisning af junk food. Her i 2019 handler det om fysisk aktivitet. Flere og flere børn er udfordret af fedme og derfor er det også positivt at se at legetøjs og spilfirmaerne i højere grad forsøger at aktivere børn og familier med deres produkter og løsninger.
Location-based (Lokationsbaseret) AR spil fortsætter med at lede vejen i transitionen til mere fysisk aktive spil. "Isbryderen" Pokemon GO skabte global adoptering af location-based AR spil da det udkom i 2016. Man forventer at spillet når en livstidsomsætning på over 19 mia. DKK her i 2019. Men mere vigtig så har Pokemon GO kickstartet en hel ny generation af mobile spil. Seneste lanceringer er Dragon Quest Walk, Harry Potter Wizards, Unite og Jurassic World Alive's new feature Sanctuaries.
Det er dog ikke kun lokations baseret AR spil der får børn og familier ud og bevæge sig.
Biba skaber interaktive legepladser. Lige nu er der over 3.600 legepladser verden over der er udstyret med Biba's AR markers. Når disse markers bliver scannet af forældrene så låses der op for digitale fortællinger og missioner som børnene skal gennemfører.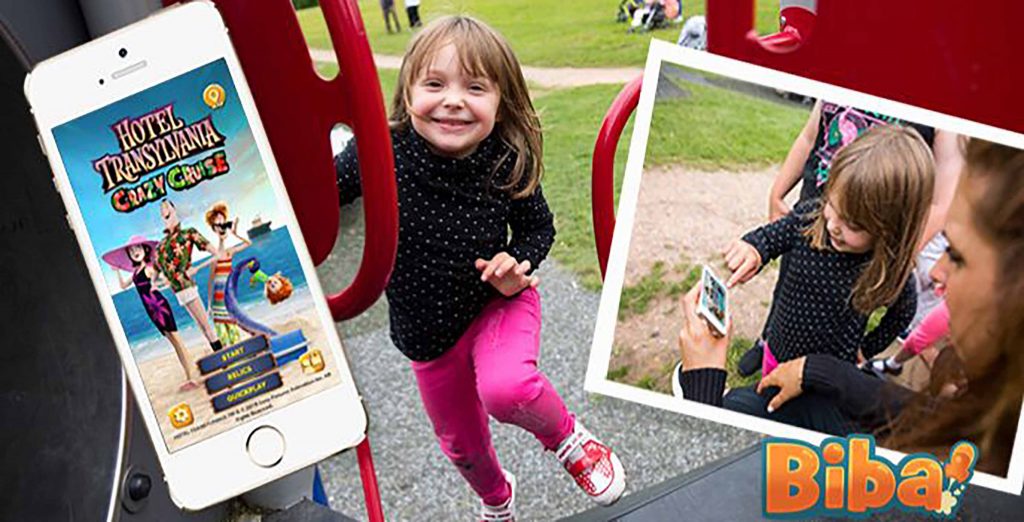 Dripple Up er en samling af sports aktiviteter der muliggør interaktion med en række fysisk baserede boldspil som fodbold, basketball, mfl. Det giver brugerne mulighed for at øve boldkontrol, som eksempelvis dribling, jonglering og skud øvelser.
Nye verdener bliver skabt
Udover at fremherske fysisk aktivitet, så er AR også blevet et populært værktøj til dem som gerne vil skabe og samarbejde med andre.
Minecraft Earth har gjort det muligt at bygge i en lokation fra den virkelige verden. Her kan brugerne både bygge deres egne strukturer, men de kan samtidigt også opleve hvad andre har skabt i verdenen omkring dem.
SwapBots er en samling konfigurerbare legetøj og spil der bliver levende gennem Augmented Reality. Skab din karakter, scan den i spillet og teleporter ind i en digital verden med din helt egen unikke karakter.
LEGO Playgrounds er et andet eksempel hvor man også kombinere et fysisk produkt i den virkelige verden. Her har man designet en spille-/legeoplevelse for LEGO fans i alle aldre og som opmuntre til interaktion med både den fysiske og digitale verden.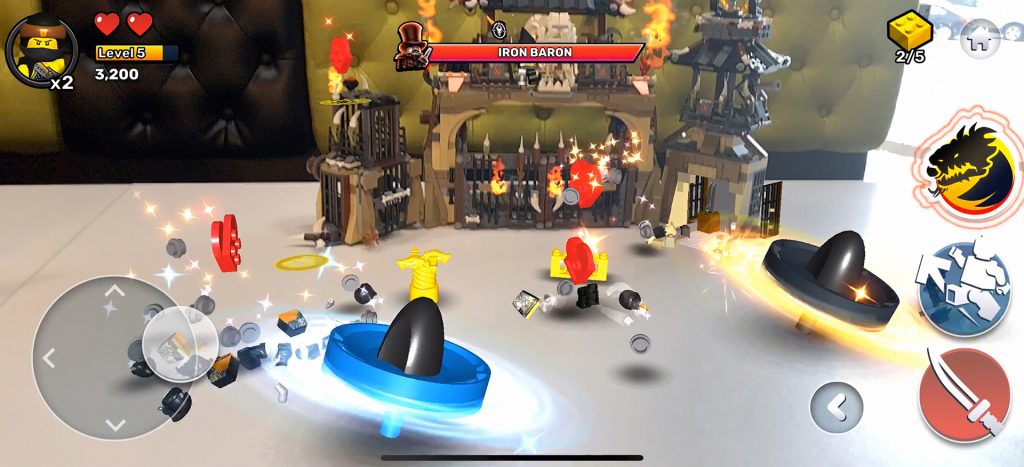 Augmented brætspil
Brætspil har eksistereret i årtier, men en forbunden oplevelse mellem den fysiske og digitale verden er relativt ny på familiespil fronten.
Selvom Angry Birds har eksistereret mange år nu, så fortsætter de med at skabe nye måder at spillet dette spil. Senest med spillet Angry Birds AR: Isle of Pigs.
Principperne i spillet er det sammen, men nu kan det foregå overalt. I køkkenet, stuen, soveværelset – mulighederne er ubegrænset. Det er både muligt at spille alene eller sammen med andre.
Pictionary Air af Mattel gør hele verden til din legeplads. De har taget det klassiske Pictionary eller Tegn og gæt, som det hedder på dansk og kombineret det med Augmented Reality teknologi. Så i stedet for at tegne på papir tegnes der i luften – de øvrige deltager kan så via tablet eller smartphone se det der tegnes. Ellers er principperne og reglerne fuldstændig de samme.

Tilt Five skaber et AR system til at spille en række brætspil. Ved brug af special designede briller så kan spillerne se og høre samt interagere med realistiske 3D hologrammer.
De kan både spille alene eller flere sammen og det er muligt at udforske, kæmpe og at løse gåder sammen.
The Explorers er endnu et eksempel på et typisk brætspil, hvor man anvender AR.
Selvom dagene, hvor man med mønter i lommen gik ned for at spille i den lokale spillehal, er ovre – så holder AR teknologi liv i drømmen ved at transformere hele verden omkring os om til en stor spillehal med videospil.
Læs også: Augmented Reality (AR) – Sjov gimmick eller værdiskabende teknologi?